Port State Control (PSC) is the inspection of foreign ships in national ports to verify that the condition of the ship and its equipment comply with the requirements of international regulations and that the ship is manned and operated in compliance with these rules. (source - http://www.imo.org/)
PSC is very important instrument in raising standards of Maritime Safety as well as it is an important parameter in the risk assessment process.
2000 vessels were assessed by IMRRA in June 2017, among them 73 vessels with 559 deficiencies were recognized as vessels with poor results of PSC inspection (equal 5 or more deficiencies). Among these 73 vessels, 6 were recognized with detention.
Below presented graphics based on amount vessels with poor PSC results (Oil/Chemical Tankers, LPG/LNG, OBO vessels ' 73 vessels in total) upon screening results that show ratio of recognized issues from the vessel's age.

<![if !supportLineBreakNewLine]>
<![endif]>
June 2017

Tanker Vessels

Delivery date' (0-5 years)

Number of vessels

Number of deficiencies

Detentions

1984-1989

2

18

1

1990-1995

12

149

1

1996-2001

11

95

0

2002-2007

28

170

3

2008-2013

17

112

1

2014-2017

3

15

0

Total

73

559

6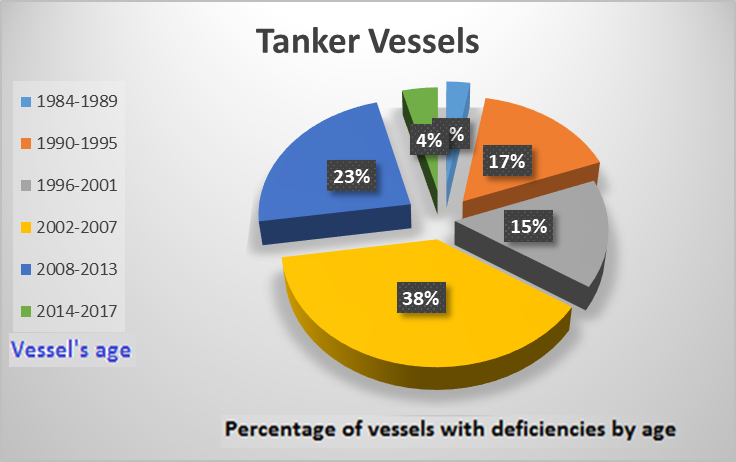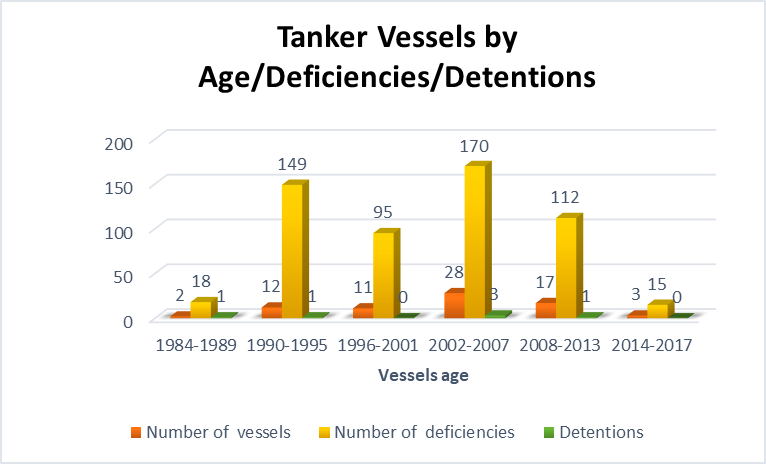 Following are PSC deficiencies by Type (by percentage) found by IMRRA team in June 2017 on the screening results
PSC deficiencies by Type ' June 2017

Name

Number

FIRE SAFETY

98

ISM

30

POLLUTION PREVENTION

39

SAFETY OF NAVIGATION

43

STRUCTURAL CONDITIONS

14

CERTIFICATE AND DOCUMENTATION

42

LSA

74

EMERGENCY SYSTEMS

36

PROPULSION AND AUXILIARY MACHINERY

21

LABOUR CONDITIONS

18

LIVING AND WORKING CONDITIONS

13

MLC

12

RADIO COMMUNICATIONS

14

WATER/WEATHERTIGHT CONDITIONS

30

ALARMS

10

OTHER

29

DANGEROUS GOODS

15

CARGO OPERATIONS INCLUDING EQUIPMENT

21

Total

559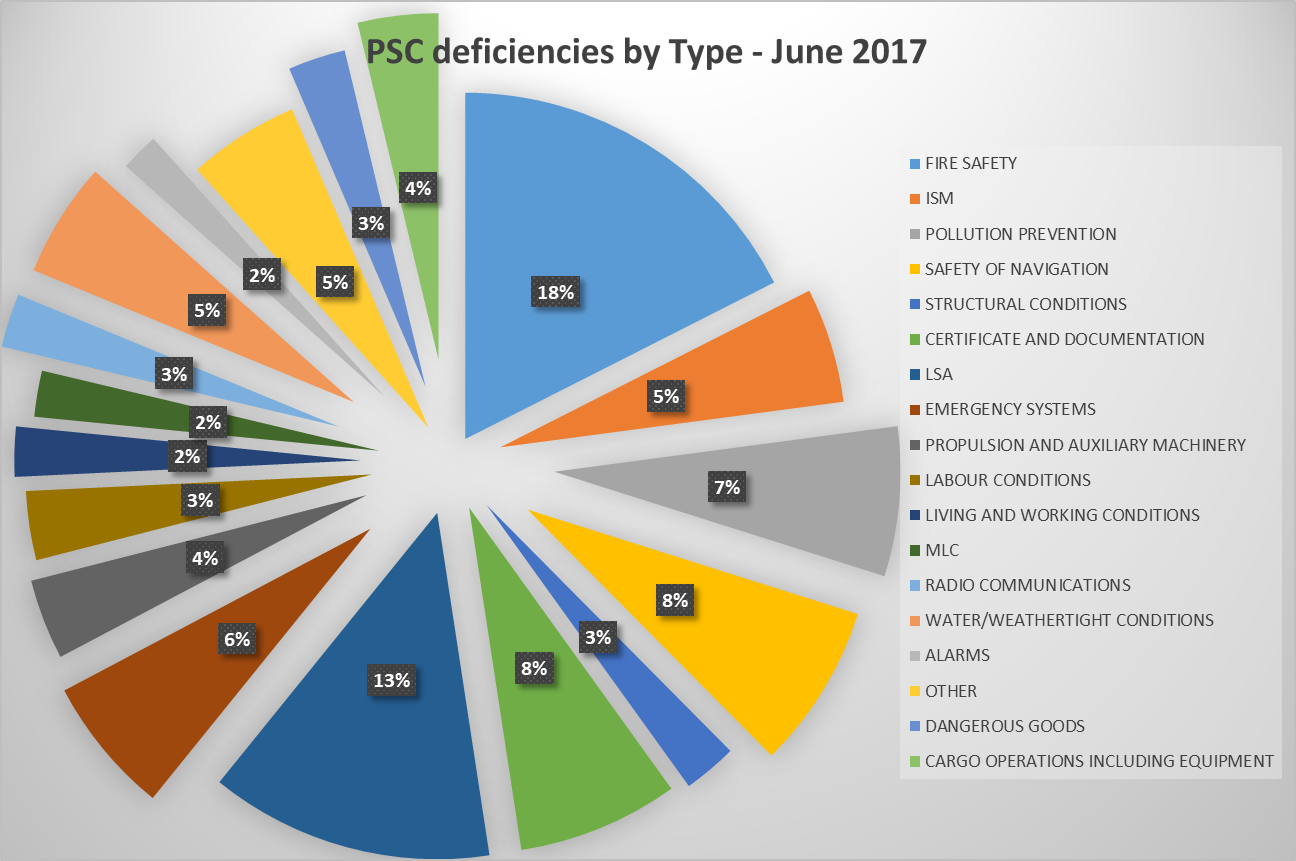 Number of evaluated vessels in June 2017

Years

Deadweight

<5000

5000-20000

20000-50000

50000-150000

>150000

≥ 25 years

122

29

13

3

1

20-25 years

31

28

15

6

9

15-20 years

34

24

57

39

22

10-15 years

100

74

161

140

28

5-10 years

169

152

171

180

52

≤ 5 years

65

58

127

64

26